You may remember a post last year about our charity bike ride from Cornwall to Bristol – well this is the follow up, and the first unsupported ride that Tom, Toby and I have done together. Here, the original trio takes on Francais, following the beautiful coastal route from Roscoff to Lanildut and then inland back to Roscoff via Brest.
Day 1
"Which way we goin'? Left? Or Right?"
You would think that by the time we'd reached port in Roscoff we would have probably made a decision on which part of Brittany we would be spending the next 3 days in.
You'd be wrong.
"Let's go right."
"Right on!"
We were off, speeding West along the North coast of Finistère with everything we needed for the next few days attached to our bikes. There's something very satisfying about pedaling your own suitcase.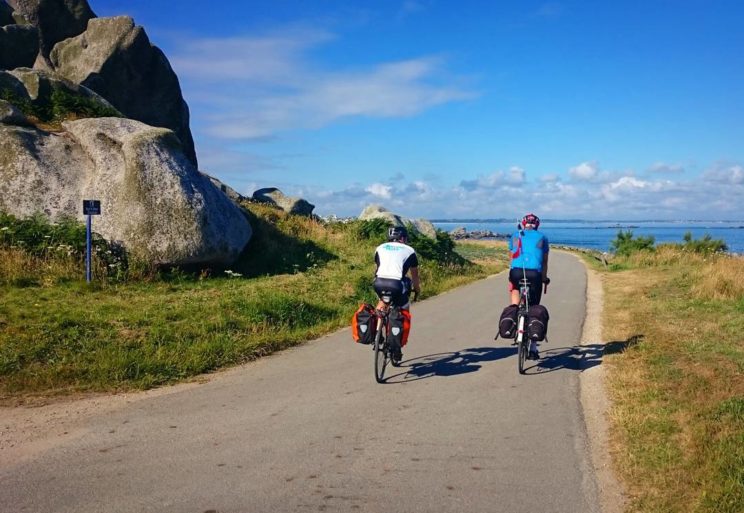 Almost immediately we were treated to spectacular coastal views – just a taster of things to come. After 20 miles of following Eurovelo route 5 (the green cycle path running around the perimeter of Britanny) it was time for breakfast and to consult the map in the town of Plouescat.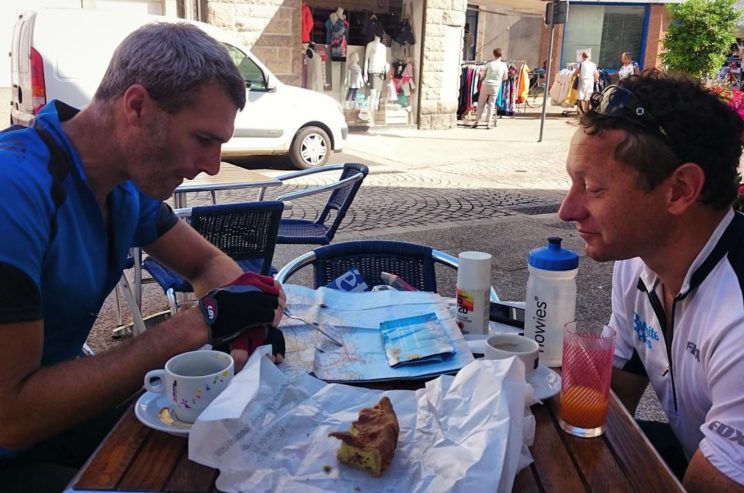 Without any real idea of where we were going, let alone accommodation, this stop was somewhat important.
"Let's just carry on and see where we get to!"
"Right on!"
(This was of course articulated in a true Cornish tone, which somehow made its way across the channel with us.)
Soon we were overdue a beer, last night's evening entertainment and ruby port were wearing off. A stop at L'Hôtel de la Mer in Brignogan Plage was breathtakingly beautiful, and as such, we propped up our bikes and took arty photos.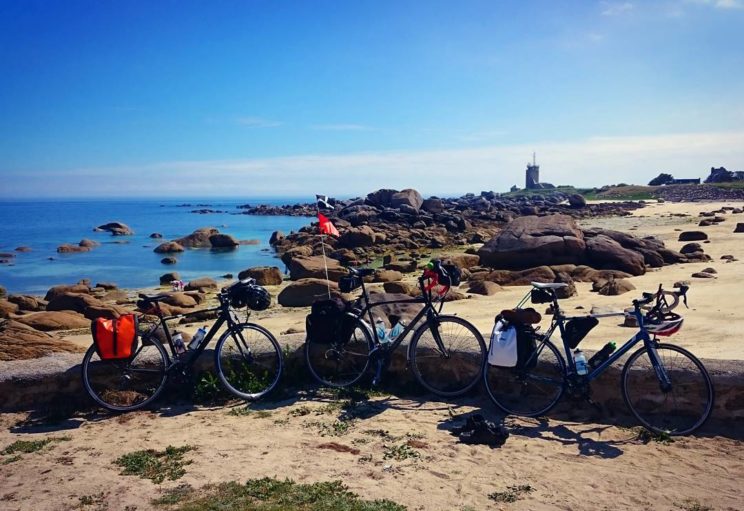 Back on the road, bellies were soon rumbling. A quick stop for a galette ble noir (Breton savory crepe) and some shade Auberge de Meneham was just enough to keep the wolf from the door.
3pm ticked over… still nowhere to stay the night or particular destination in mind. We set off towards the town of Guissény seeking an 'informations touristiques' and were kindly guided to the small coastal village of Kastell Ac'h. Home to the the largest traditional lighthouse in the world, the Île Vierge, Hôtel Le Castel Ac'h provided the backdrop to reflect on the day's events, have a good feed and play a few games of cards.
Day 2
We hit the road later on day 2, due in part to somewhat muggy heads from rather too much French lager. Today we'd be heading to the large port of Brest, and could easily tailor our mileage to suit our progress, cutting off the far west corner of Britanny accordingly.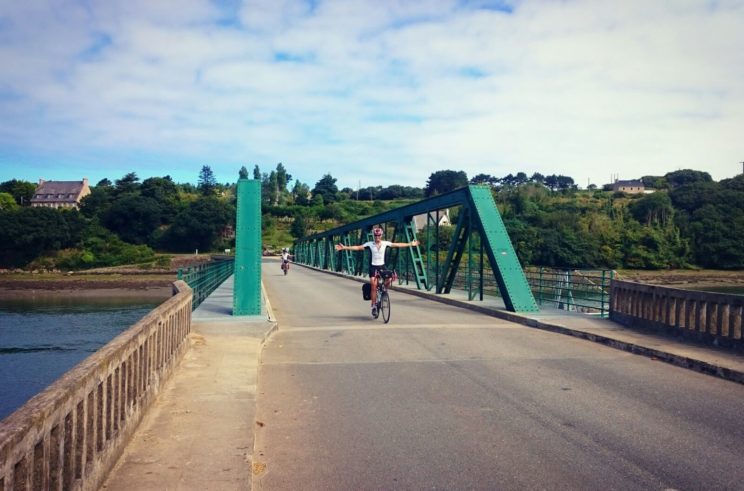 We crossed the W'rach river and hugged its western bank whilst being treated to spectacular views.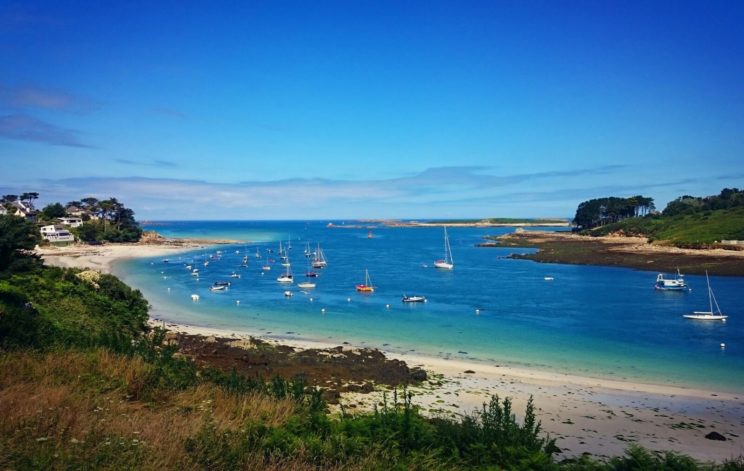 Before long bellies again rumbled and a Moules marinières pit stop in Mon Repos came calling.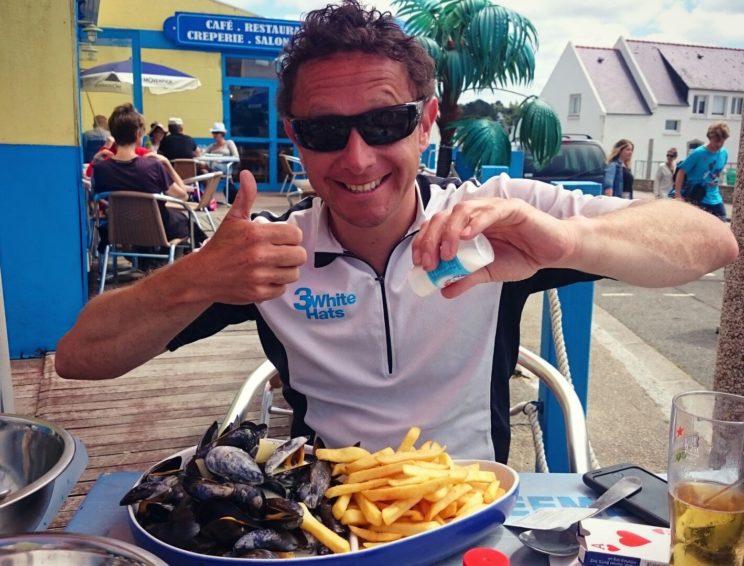 Following the coastline around the far north west corner we came across a kite festival near the town of Porspoder.
Pausing only to consult the map and stop for Orangina and bananas we headed down to Brest via Saint-Renan and Plouzané.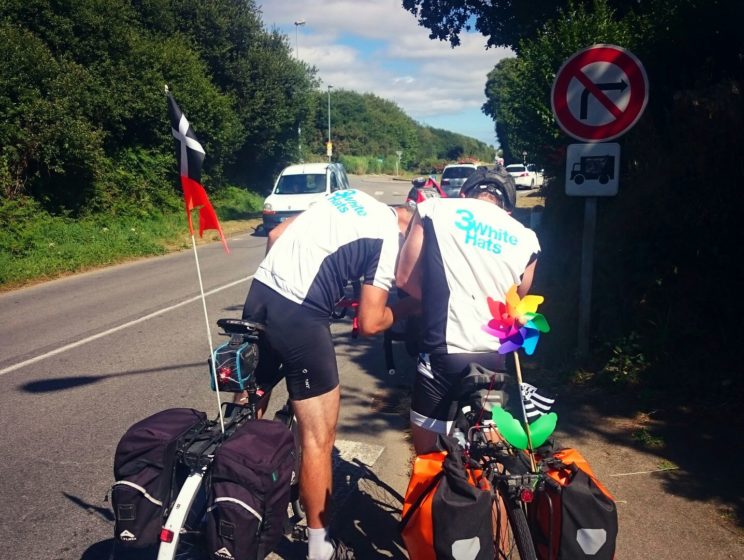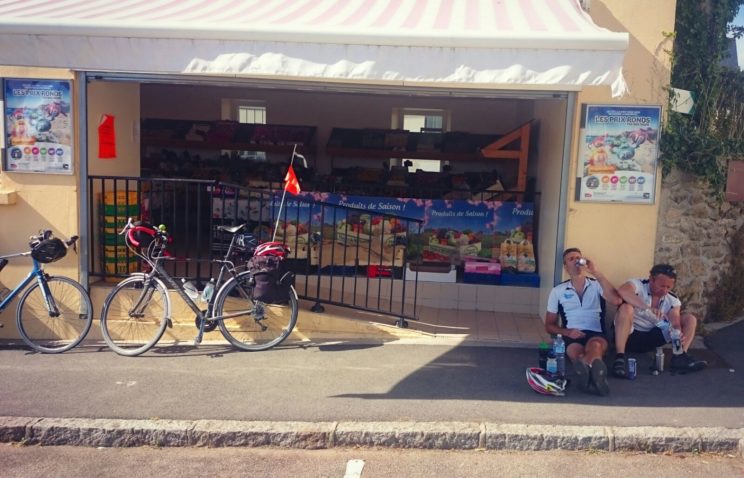 Day 3
Over a few glasses of French grapes the night before, a route was agreed for day 3 that started with a ferry in the polar opposite direction to the way we needed to end up. This was somewhat an oversight, and we needed to 'pedal like hell' for the whole day to make sure we made it back to Roscoff in time. None the less, we were soon on a boat to Lanvéoc.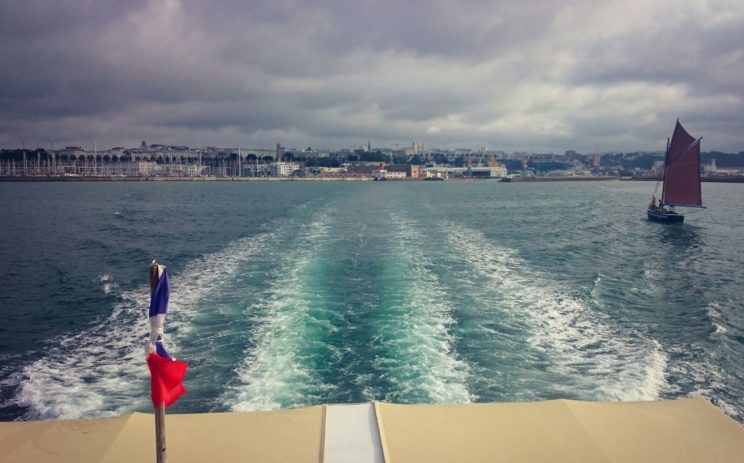 Due to a combination of pedaling hard and having to stick to faster, more major roads, this part of the trip didn't have the aesthetic beauty as the others. Nonetheless, it was good to spin the pins and take in the odd sight like this one – crossing the Terenez bridge between Landévennec and Rosnoen.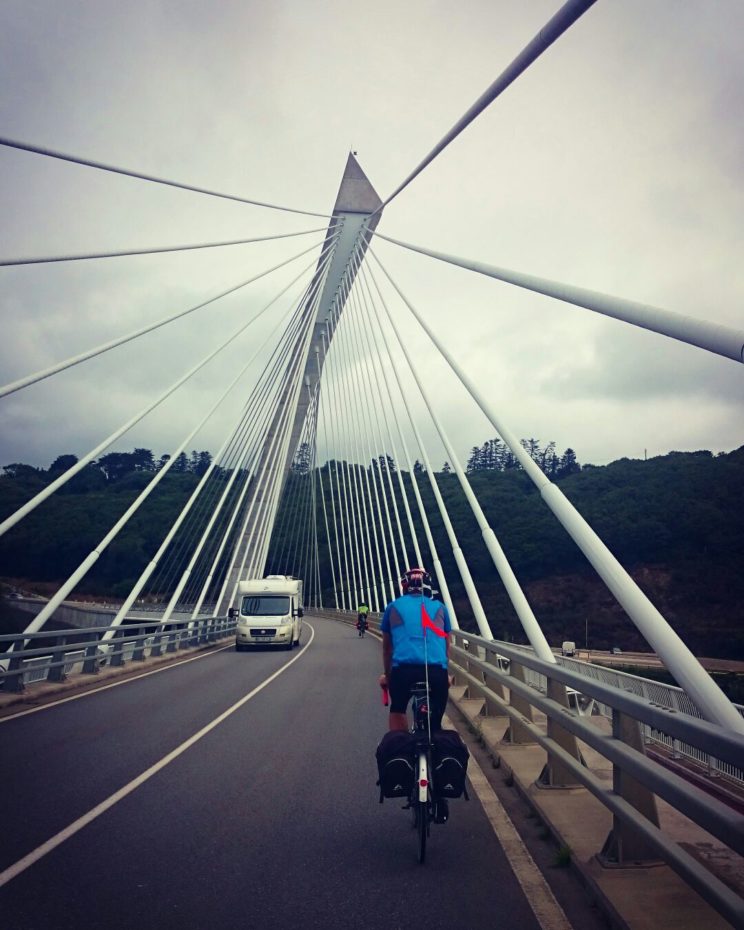 We were making great pace, and soon enough we were back on track to meet our departure deadline in Roscoff. This was not without Google Maps having its wicked way with us – my grandfather would say that it 'took us around the church to find the steeple' in a broad Cornish accent.
Soon we were near the ferry port, and we'd freed up enough time to stop for one last beer. Well earned after a day of hard riding.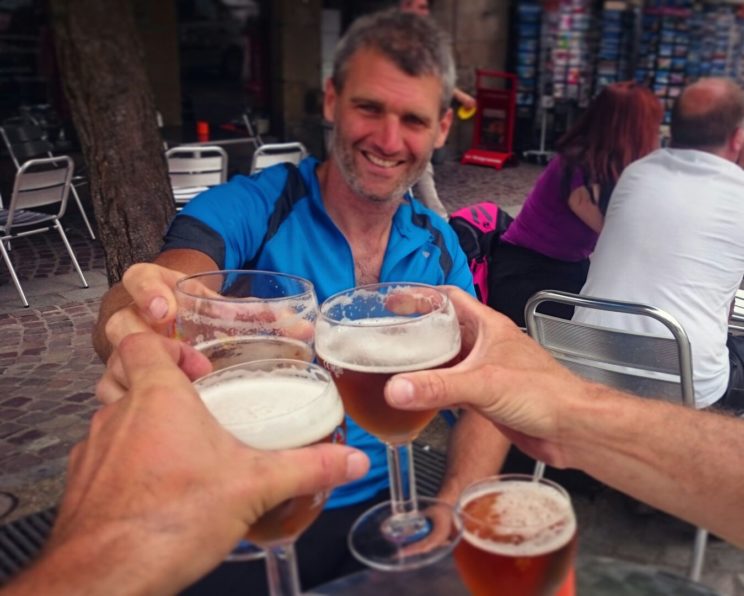 And that concluded an intense but extremely fun few days in Britanny. I would thoroughly recommend taking the ferry over with bikes, even if you're not a rangy cyclist – it's a stunning and very accessible part of the world!
Big thanks to Toby and Tom. What's next year chaps?!
Must haves in the suitcase

Obviously the bike itself was important – check my post here if you need help choosing a ride.
Pannier bags and a rack are a must – rear mounted was fine for a short trip. Consider mounting on the front and handlebars if you're going further.
Maps – getting local maps are imperative for when the technology fails.
First aid kit – pick up something cheap and portable just in case you run into problems.
Keep clean – my Paul Smith wash bag (pictured left) from Infinities was perfect.  With it's retro cycling cap design, this added a bit of class to a boys trip and let everyone know that I'm the real deal in the cycling community.
Helmet, jerseys and shorts – Lidl and Aldi often have great deals on this kit in the Spring.
Snacking – isotonic/hypertonic gels as well as flatjacks are great for that all important boost of energy in the afternoon lull.