Up, Up And Away With Aerial Cornwall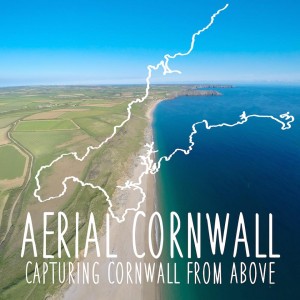 We like to keep good company at Bee Outdoors and when it comes to big fans of the great O, you don't get much bigger than the man behind Aerial Cornwall, Matthew Burtwell.
Seeing as I'm particularly fond of seeing the homeland from above, and even get roped into being a glamorous assistant from time-to-time, I thought it time to learn a little more about the boy and his quadcopter.
Describe what you do in a nutshell
My tagline is 'capturing Cornwall from above and sharing it with the world' which pretty much says it all!
I take photos and videos around the Cornish coast, using a GoPro camera and remote-controlled quadcopter, and share them online for people to enjoy.

Do you do this commercially?
No, it's purely a hobby. I have a full-time job with Fourth Element, a dive company, and do this in my spare time. Literally at every opportunity!
What inspired this hobby?
I love to travel and originally bought a GoPro for a trip to The Philippines. Because I dive a lot, I wanted a camera that covers land and ocean, and as GoPro say themselves, 'it's the world's most versatile camera'.
When browsing GoPro videos online I noticed quadcopters being used a lot – especially for surfing, which got me interested in trying it out for myself.
Do you mainly use it in Cornwall?
Only in Cornwall. This place is extremely photogenic, I love it and it's my home. I want to explore and document the delights that we are lucky enough to have on our doorstep.
You see thousands of photos of popular Cornish landmarks that are all great but 9 times out of 10 they're all taken from the same angle. I wanted to investigate a new perspective and get photos of places from angles rarely or never seen.
What are you doing with the images and videos? 
I created my website AerialCornwall.com to showcase my best shots from each location (and trust me, I take hundreds of each!).
I've categorised each part of Cornwall which allows people to search for their hometown or a place of interest. The site also features an interactive Google map with my videos, so you can scan and journey around the coast.
The interactive side of things seems important to you, how else do you share your stuff?
Each time I post a new shot I put it out there through Facebook, Twitter and Instagram so people can get involved, share and feedback. I communicate the content in every way possible because I like to think people enjoy seeing the shots as much as I enjoy taking them.
I also post to popular sharing pages on Facebook such as Dreams of Cornwall and Holidays in Cornwall, and also the local press. I featured in Cornwall Today recently with this 'reader's photo of the month' a shot of the beautiful Kynance Cove.
What's your favourite shots? (of the Aerial Cornwall variety)
I joined the Lizard Lifeboat to film their launch and they just so happened to need a new crew shot, which I was happy to provide. This will also be featured in their 2015 calendar which is cool.
Fave location has to be the Minack Theatre because it's a prestigious scene on the Cornish coast, and has a completely unique structure which is great eye candy for the camera!
The guys down there were good enough to let me shoot before opening to see the place in its raw beauty, which was a rare opportunity. Porthcurno, home to the Minack, is also a particularly stunning bit of coast.
I also love Kynance Cove, it's a beautiful beach and I've spent a lot of time there, especially as a kid!
What's the most unusual place you've photographed?
Poltesco is an example of somewhere off the beaten path, yet has so much to offer. I love the old buildings down there sitting on the water's edge, with a green river as a backdrop. I like to cover all parts of Cornwall, not just the popular destinations – it's much more satisfying to uncover a hidden gem and reveal the real Cornwall.
Also speaking of unusual I recently went out on a boat and photographed The Tall Ships regatta off Falmouth. That was an impressive site and I really wanted to get some aerial footage. Flying that far out to sea though, and off a moving boat at that, is not ideal to say the least! But I'm glad I did it. You have to have some confidence in yourself flying and the technology of the drone.
What's next for you now summer's all but over?
I'd definitely like to dabble in more surf photography when the swells pick up. Thinking big, I also hope for some of the white stuff! I'd like to get that perfectly snowy, winter-wonderland shot.
I am putting together a short film covering most of the places I've filmed which should hopefully be finished soonish… here's the trailer. 'A Coastal Journey'
Other than that, I still have so many places that I'm yet to photograph – the list is endless!
West Cornwall has been prime, and on the doorstep, but now I'm looking to venture further up the coast and see what that has to offer. I've covered some areas in north and south Cornwall but not as much as I would like. I may be swayed by new gadgets in the meantime as well…
If you see me out flying then feel free to say hi. People are always pretty interested in the equipment and I'm always happy to chat!
Thanks Matt, great stuff. If I have to choose a favourite image it has to be the beautiful little village of Coverack (Not at all biased by the fact I grew up there) and I'm particularly partial to your capture of the greatest spot on earth – the Loe Bar.
Oh, and if you're in need of calming during a day at work, then this video of the Helford passage works a treat.
I'll stop there and let everyone get back to work, but not before you've taken a look at our gallery of a few favourites